Websites
Website design and build Wokingham
TimMo Ltd can build you a website. We take care of everything from the initial design concept to completion. We can also offer a comprehensive hosting, support and maintenance package. No matter what type of site you require, we can take care of it.
I'm a designer, and that's what I'm best at. I decided that TimMo Ltd needed to offer websites as a service. I found I was going into clients to quote on logos and stuff for print, and they would say to me 'Do you do websites too?'
And I didn't!
So I was losing out on business, and more importantly to me, losing the creative input on my client's collateral. This meant I would put a lot of work into the logo and look and feel of all their collateral, only for a web designer to waltz in and design a website for them that didn't match everything else! And to me, that makes my client not look as good to their customers.
So I decided on a 2-pronged approach. I would learn how to build websites in WordPress, which is a platform used to build sites, and find a web developer I could work with who could build the more complex sites for me and also take care of my hosting, SEO and support needs.
In actual fact 90% of the websites I've been asked to quote on have been suitable for WordPress, which isn't half as teccy as HTML or Java, or whatever obscure programming languages I still don't understand.
The company I found was Wokingham Website Design, a well established website company in Wokingham. The owner  Chris and I get on like a house on fire, and have partnered up to bring a comprehensive offering to my clients. The arrangement works well for us. My clients benefit from my design talent, and Chris' technical knowledge.
This is key for me, as my clients are the most important thing to my business, and I believe in looking after clients like family and building lasting relationships with them.
Together we design internet solutions for small businesses mainly in the Wokingham and surrounding counties: Berkshire, Hampshire, Surrey, Buckinghamshire and Oxfordshire.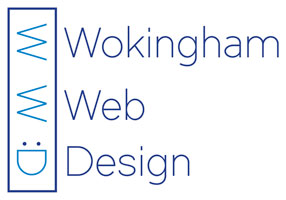 About Wokingham Website Design
Wokingham Website Design is a specialist company designing internet solutions for small to medium sized businesses.
Whether that be websites that are content managed, ecommerce online shops or search engine optimisation for your existing site, we value the opportunity to work alongside your business in order to provide a longstanding and trusting partnership; not simply just sell you a website and say goodbye.
We have built up an excellent reputation for unparalled service in the area since 2005 when we started trading and yet we still provide excellent value for money by continually providing quality professional websites for less than our competition.
A brochure site tends to be the main type of site we build. It's really a showcase for you or your company. It tells potential clients who you are, what you do and where to find you. You can have text and images in there, but it doesn't actually SELL anything. It's more of a shop window for you and your services.
Ecommerce websites are simply an online shop. If your business wants to sell online, this is how to do it. We list your products and provide the customer a means of ordering. We can help you with the technical aspects of how to achieve this, as well as taking payment and search engine optimisation to get your online shop noticed.
A type of CMS (Content Management System), WordPress websites are perfect for small to medium sized sites. They are based on 'themes'. Many of the modules we use to add movement and interest to a website are already included. This means we can build sites in a shorter timescale than it takes to handcode a site, and for a more reasonable price. This makes WordPress ideal for many businesses. (This site is built with it).
Content Management System (CMS)
A CMS is a way of managing the content of a website, allowing the site administrator to make changes easily without needing in-depth technical skills. Here at TimMo Ltd, we benefit from WWD's own designed and coded bespoke CMS. They did this because they couldn't find one good enough, so decided to build their own.
There's plenty of hosting packages out there. All offer different benefits, and for varying cost. Our hosting is a no-nonsense price. It's a yearly cost and comes with support and maintenance. We don't do different levels of service, everyone gets the same personal touch, and industry-leading security to ensure your site works as it should.
Secure
We use 128 bit security, keeping your site safe
Maintain
Site software updated as and when needed
Support
Need help? We're here whenever you need us
What sets us apart from other web design companies?
Knowledge
We don't just have programming knowledge. We have the total spectrum needed from start to finish.
Initially to understand your needs and requirements. We take your ideas and turn these into a design. Ensuring the design is aesthetically pleasing but, more importantly, functional and easy to navigate, as well as being search engine friendly.
Technology
We make use of modern technology and programming methodologies. We utilise an architecture of LAMP which stands for:
Linux (for the operating system)
Apache (for the website listener)
MySQL (for the underlying database)
PHP (for the programming language)
The advantages of this platform compared to a static html site are almost endless. The main advantage however is the ability to maintain your website yourself via a Content Management System (CMS).
Support
From spending many years working in support in the city for a merchant bank and more recently for Oracle, Chris utilises his knowledge and vast experience in this field to ensure WWD customers receive only the best support available, and reading the testimonials you will see our customers think the same.
Value for money
Giving our customers a fantastic service, quality professional products and an accessible and reliable service is easy if money is no object.
The difficulty lies with providing the same high level of service at a fraction of the cost, and most importantly providing value for money to customers. Not only have we managed to achieve this, but we are constantly looking to improve on our offerings and to make use of any new efficiencies we come across to reduce costs in the future.